This topic contains 0 replies, has 1 voice, and was last updated by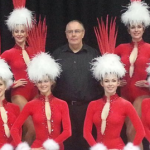 Bernard Tiller 5 years, 10 months ago.
Viewing 1 post (of 1 total)
Author

Posts

March 11, 2015 at 4:20 pm

#379

Bernard Tiller

Moderator

Reproduced by kind permission The Telegraph 14/10/05

Constance Coury, Obituary
(Filed: 14/10/2005)

Constance Coury, who has died aged 106, travelled the world as one of the early Tiller Girls in the aftermath of the First World War; having established a wealthy lifestyle in Egypt, she was later forced to return to England almost penniless because of the revolution.

One of five sisters and four brothers, she was born Constance Ada Pearce at Barkingside, east London, on January 27 1899.

Her father, Edward, was a railway worker and she displayed an early passion for dancing while playing in the family's garden with children from the neighbouring Barnardo's home. As a child she suffered two tragedies in quick succession: her mother, Ada, fell ill and died shortly before the outbreak of the First World War, and only a few months later her youngest brother, eight-year-old George, was run down by a bus. Later that year Constance and her eldest sister, Betty, went to the London Palladium to meet John Tiller, the impresario whose well-drilled all-girl dancing troupe was becoming a sensation.

The two girls did not have an appointment and Constance was just 5 ft 2 in tall. However, their persistence paid off; both were recruited to study at The Tiller School of Dancing and began performing all over the country.

Constance's first foreign trip came in March 1919, when she was sent to entertain American soldiers in Paris. It spelled the end of Betty's dancing days, as she fell in love with and married one of the GIs. Another sister, Helen, signed up in Betty's place and she and Constance joined a Tiller tour which took them to France, Greece, Italy, Turkey and Egypt.

When they reached Alexandria in October 1920, both sisters contrived to meet their future husbands, and settled down in the Egyptian city. Constance married Michael Coury, who was half-Lebanese and half-French and ran a successful business buying, selling and classifying cotton.

International trade was booming in the post-war period, and the couple enjoyed an affluent lifestyle. The Second World War, however, was to have a detrimental effect on their fortunes. Constance was separated from her sons for seven years from 1938 and Michael's business collapsed soon after peace was declared, as customers defaulted on massive debts built up during the conflict.

He managed to find a well-paid job with another cotton merchant, but in November 1954 Nasser assumed power, having overthrown King Farouk and almost immediately severed Britain's 72-year association with Egypt, confiscating foreign-owned property and nationalising banks and industries.

Constance's sister Helen and her husband Harold fled the country in 1956, when Nasser seized back ownership of the Suez Canal, prompting an abortive invasion by the French and British. By this time Michael Coury was suffering from serious heart problems. He lost the use of his legs and nursed by Constance, remained in Alexandria until his death in 1968.

Aged nearly 70 and with little left to keep her in Egypt, Constance resolved to return to Britain, where her four children were living. It was still prohibited for foreigners to take property out of the country, so all the Courys' possessions were auctioned off at a fraction of their value. Constance arrived home with virtually nothing.

Over the following decade, however, Constance found a way of gaining access to some of her previous wealth: on visits to Egypt she would go to her bank vault and swap expensive diamond rings for cheap fakes, before smuggling the genuine articles back in her luggage.

She retained from her days in Egypt a passion for haggling and delighted in embarrassing relatives and friends by attempting to strike deals in stores such as Marks & Spencer and John Lewis.

As her longevity became evident, she developed a disregard for healthy eating, insisting on large helpings of full-fat cream, often unaccompanied by any pudding.

On her 100th birthday, Tony Blair sent her a bottle of whisky; as she drank only sherry, she gave it away.

Constance Coury is survived by her four children, 10 grandchildren, 13 great grandchildren, and one great-great granddaughter.

John Buchanan, Copyright of Telegraph Group Limited 2005.

Author

Posts
Viewing 1 post (of 1 total)
You must be logged in to reply to this topic.