This topic contains 0 replies, has 1 voice, and was last updated by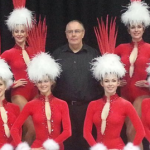 Bernard Tiller 5 years, 10 months ago.
Viewing 1 post (of 1 total)
Author

Posts

March 11, 2015 at 6:00 pm

#445

Bernard Tiller

Moderator

Mary Read. Thank you Sandra Bryant and her family for the photos and information.

Mary Read was a shy young girl from Manchester who went on to be one of the most important dancers, managers / choreographers in the history of The Tiller Girls.

Mary Read 1906

William Henry Read married Margaret Darkin in May of 1888, Margaret (Madge), Mary's older sister, was born later that year. Mary was born 01/12/1891 and as with most of the early Tiller Girls came from the poor areas of Manchester and the surrounding towns in the UK. Mary and her sister grew up in an area of Manchester called Chorlton-On-Medlock near Moss Side, a particularly poor part of the city where John Tiller also grew up. The girls did not have much choice in life but to go into the cotton mills at an early age.
John Tiller's dance school offered the young girls a better life during those hard times, a way out and a way of earning money to send home to their families. The Tiller School of Dance would look after their every need and all the girls were chaperoned to make sure they stayed safe. Mary and Madge joined The Tiller Girls at quite a young age, probably between ten and twelve years of age. Both girls were good, hard working dancers and stood out from the other girls.

As Mary grew up it was quite obvious that she was one of John Tiller's favourite girls and he made sure she had the best of everything. In 1906 he produced a promotional booklet for The Tiller School of Dance and made sure that Mary had her photo in a prominent position.

In the coming years John built a Tiller troupe called The Sunshine Troupe around Mary. These were considered some of the best and most attractive dancers that John Tiller had. They performed top bookings all over the world, also being the only troupe to travel to St Petersburg and Budapest. In 1913 The Sunshine Troupe performed in a specially prepared music hall aboard ship at the launch of the SS Aquitania.

Since 1900 when George Lederer booked The Tiller Girls to perform the Pony Trot, girls had been travelling from the UK to perform in America. In February 1912 Mary and Margaret both travelled to America to performed with The Sunshine Troupe.

Mary returned to America in 1916 to appear with The Sunshine Troupe in the cast of Jack O'Lantern on Broadway. At this time John Tiller had so much work in America he opened an office in New York, putting Mary in charge of his New York School. The School at 226 West 72nd Street had offices and a training studio.
Mary was a hard taskmaster, but a good business woman who had John Tiller's full support in everything she did. The girls always called her Miss Read. In the 1920's John Tiller was regularly crossing the world to finalise contracts. He always made sure his trip ended up in New York so he could meet Mary. The Tiller School of Dance flourished under Mary's control, she always had a number of troupes appearing on Broadway also training and choreographing many American girls, although it is thought only the English girls danced as Tiller Girls.

Margaret Read

It is believed her sister Margaret also worked at the school as she often stood in for girls when a troupe was short. Margaret was known to have returned to the UK for some time, but returned to America where she may well have become Mary's second in command training the girls and helping with the choreography as both girls remained close. She is listed as a dancer in some of the Broadway shows. Margaret married Thomas Boltz and settled in America.

John Tiller died on 22nd October 1925 in New York, Mary returned his body to Great Britain and attended his funeral, she then returned to America to continue with the running of The Tiller School. Mary Read continued The Tiller Girls in America, signing a very profitable contract with RKO studios with many of the girls working in America appearing in films and dancing all over the USA (see Olive Hollingshead page). Mary is credited as the choreographer for the film Half Shot at Sunrise in 1930 amongst others.

Mary with a troupe at the RKO studios

Many of The Tiller Girls married and settled in America, most of them dancing and choreographing in American shows. Things started to get hard for Mary during the American recession with the laws being changed making it harder for girls from the Great Britain to work in America. Many of the shows closed and the ones that carried on could not pay a lot. In the end Mary closed the American Tiller School in 1935 and married Dr Donald L Clark in October 1937.

Links to the IBDB Internet Broadway Database

Productions Dates of Production
Provincetown Follies [Original, Musical, Revue]
Choreographed by Mary Read
Nov 3, 1935 – Dec 1935
Ripples [Original, Musical, Comedy, Extravaganza]
Choreographed by Mary Read
Feb 11, 1930 – Mar 29, 1930
Three Cheers [Original, Musical, Comedy]
Choreographed by Mary Read
Oct 15, 1928 – Apr 13, 1929
She's My Baby [Original, Musical, Comedy, Farce]
Choreographed by Mary Read
Jan 3, 1928 – Mar 3, 1928
Yours Truly [Original, Musical]
Choreographed by Mary Read
Jan 25, 1927 – May 14, 1927
Criss Cross [Original, Musical, Comedy]
Sunshine Girls' dances devised by Mary Read
Oct 12, 1926 – Apr 9, 1926
Lollipop [Original, Musical, Comedy]
Choreographed by Mary Read
Jan 21, 1924 – May 31, 1924
Stepping Stones [Original, Musical, Comedy, Fantasy]
Choreographed by Mary Read
Nov 6, 1923 – Oct 4, 1924
Good Morning Dearie [Original, Musical, Comedy]
Performer: Mary Read [The Sunshine Girls]
Nov 1, 1921 – Aug 26, 1922
Jack O'Lantern [Original, Musical, Extravaganza]
Performer: Mary Read [Chorus]
Oct 16, 1917 – Jun 1, 1918
There is a lot more to add about Mary and this page will be updated.

Author

Posts
Viewing 1 post (of 1 total)
You must be logged in to reply to this topic.