This topic contains 0 replies, has 1 voice, and was last updated by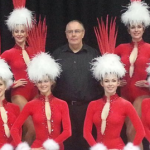 Bernard Tiller 5 years, 10 months ago.
Viewing 1 post (of 1 total)
Author

Posts

March 11, 2015 at 5:49 pm

#435

Bernard Tiller

Moderator

Ethel Downes

In September 2007 I was contacted by Anne who was searching for information on her aunt who had been a Tiller Girl. Unfortunately, I did not have any information on Ethel so I placed Anne's request on our contacts page. I was also contacted by Anne's cousin about Ethel and put them in touch with each other. They have been working on locating information on their aunt. Below are some extracts from Anne's emails during their search. The last one received January 2010. I think this is so interesting as it shows how dancing and show business is in the blood and continues to run through families for generation.

I have been researching my family tree and my mother's aunt, Ethel Downes (Stage name Lenors) born in Manchester, was a Tiller Girl in the early 1900s. I was told she toured around the country including Birmingham where my grandfather went to see her and London and then went abroad. I have three photographs of her, one with the dancing troupe, one on her own and another portrait taken with another lady called Mamie. We think the name of the photographer's shop is German and taken in or near Austria.

My mother was told she died quite young but no one ever knew what happened to her or if she changed her name, there was also a rumour that she had a baby girl called Rebecca. That's all the information I have
I was wondering if anyone can help or has a similar family history to ours?
I have had the photo's restored and can email them, maybe someone will recognise one of their past relatives on there and help me with any more information.

I am so glad I found this website.
Regards Anne

Ethel was on stage dancing at the age of 19 on the 1901 census.
My grandfather once told me that his two sisters were in the theatre and their mother Caroline Downes owned a bakers and confectionery business in Liverpool and her maiden name was Montgomery.

My family have all been in theatre since those days with the Betty Fox School in Birmingham. My eldest daughter Suzanne danced and toured in the Far East and Spain and is now a choreographer in the USA Youth theatre and my other daughter Joanne, danced and appeared in pantomime at the Alexandra Theatre in Birmingham, (which I later found out so did Ethel many years ago).
I am retired now and live in the Southampton area, an ex dancer myself, I toured the UK with Moss Empire's productions in the late 50s with Norman Wisdom and Bruce Forsyth. He was doing Beat the Clock at the London Palladium at that time, strangely enough with The Tiller Girls. They couldn't tour with him as they were under contract, so we had to tour with him as substitutes, imitating their high kick routine.

I contacted you some time ago regarding my missing great Aunt Ethel Downes, stage name Lenors.
You kindly passed on a message from a cousin of mine who had contacted you. It seemed we were both looking for her whereabouts, you also put two photos on your web page and a letter asking for help.

I am pleased to report my cousin and myself eventually found Ethel's obituary in The Stage newspaper of 1914. After her tour abroad, she settled in London, was a member of Lottie Stones dancing troupe and was a dance teacher with a studio in Islington.

Unfortunately at the age of 26, (Anne later checked the birth records and found Ethel was 31) was admitted to hospital where she died from a lung disease on 4th April 1914.
She is buried where many musical hall stars are in the London Streatham Park cemetery.
I thought it as well to let you know that with your help we have been successful, although a little sad about her death at such an early age.
Thank you again and all the best Anne.

Author

Posts
Viewing 1 post (of 1 total)
You must be logged in to reply to this topic.