This topic contains 0 replies, has 1 voice, and was last updated by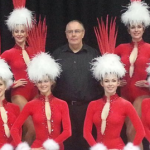 Bernard Tiller 5 years, 10 months ago.
Viewing 1 post (of 1 total)
Author

Posts

March 11, 2015 at 5:54 pm

#439

Bernard Tiller

Moderator

Information supplied by Sue Diaz, Madge's Grandaughter.

Madge Allen

Madge was born in Newcastle in 1880 and joined The Tiller girls when she was about ten years old. She continued on the stage and in the theatre for the rest of her life, never returning to a normal life. She was one of The Tiller Quartette and went to Paris, but I do not know the year. She always said your grandfather John Tiller called her "Copper Nob" and that she was supposed to go to America, but her name was accidently left off the list. Your grandfather called out "Where's Copper Nob?", but it was too late for her to go.

Madge told me a very sad story of one of the girls in Paris who met someone unsuitable and went to live with him. Madge and the head girl and another girl went to where she was living and pleaded with her to return with them, but to no avail, my grandma always had tears in her eyes when she told the story.

I don't know when Madge left The Tillers, but I understood she was a Tiller Girl for many years. then went solo until she met Harry (Harry Russell).

I have sent a newspaper spread about a girl called Dorrit Maclaren who was also a Tiller Girl, she is directly above the photo of my grandma.

The panto was actually Harry Russell's (my grandfather's) first pantomime, my grandma designed the costumes.

They were to stay together the rest of their lives, performing and touring with the pantos, my grandma as principal boy. Later on in life they had a small theatre in Doncaster, which was turned into a cinema and is still going as a theatre again, known as the Civic Theatre, which is on the internet. It really is a funny little theatre and it seems ironic all the beautiful theatres which have been pulled down and this little theatre which my grandfather had built as a temporary venue is still going! But there are plans for a new theatre and it will be sad to see it go.

My father Alan was born in 1916 and continued in the theatre until 1953. I have sent you various photos that might be of interest to you. Madge died at the age of 83, I thought she was a lot younger! She still had beautiful thick long hair which she rolled up, although faded it still had glints of the redhead she was. My grandma had my father late in life, and he continued with her producing and directing pantos.

Author

Posts
Viewing 1 post (of 1 total)
You must be logged in to reply to this topic.