This topic contains 0 replies, has 1 voice, and was last updated by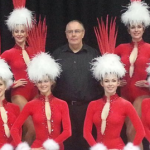 Bernard Tiller 5 years, 10 months ago.
Viewing 1 post (of 1 total)
Author

Posts

March 11, 2015 at 5:57 pm

#443

Bernard Tiller

Moderator

I recently received an email from Mollie Unwin about her grandmother. I do not have the records to prove that her grandmother was a Tiller Girl but everything I have been told points to the fact that she was, sometime between 1906 and 1914. Mollie sent me a great photo of her grandmother in costumes that I am sure are Tiller costumes. Mollie then sent me the wonderful article below that she had written about her grandmother. It is very obvious how proud she is and really reflects the hard times that some dancers had at this time.

Mollie's grandmother was Mary Costello but she was also known as Elizabeth or Mollie.

Mary third from right in this photo

"The Dancing Queen"

"Mother, goodbye. I am going to lead my own life". The front door closed firmly in the back streets of the Manchester slums. My grandmother, whose name was Mollie, was aged eighteen in 1912 and was leaving home to tour the continent with a dancing troupe; a rather risqué occupation at the turn of the century.

Mollie was born out of wedlock and as a result they had always been considered outcasts. Her father was a sailor and the only contact they had with him was when he would arrive, very infrequently, with a birthday present for Mollie, usually at the wrong time of the year. When times were harder than usual, Mollie was placed in a Catholic orphanage and it was the nuns who persuaded her parents to get married. The couple obliged but after the wedding, mother and daughter never saw 'Jolly Jack Tar' again. He did not even stay for the wedding night.

Mollie danced across Europe, young and carefree and in Italy she met Angelo, my grandfather. Within a few months she was pregnant and as war was imminent, she decided to return home, back to the slums and the wagging tongues. Travelling over land she reached Greece, when she was eight months pregnant and gave birth to my mother. Relieved of her burden, Mollie left her baby with a wet nurse in Greece and travelled home to England, free to carry on with her dancing career. Angelo had other ideas; after two and a half years he collected the poor little girl, who by now could only speak Greek. She was scooped up into the arms of a man she had never seen before and they set sail for England, eventually arriving in Balham, South London, where my grandmother was now living.

Angelo doted on Mollie and their daughter, Martha. Times were very difficult for him, as between the two wars it became clear that Italy was siding with Germany and this meant it was difficult for Angelo to find work. He often queued at restaurants, from three o'clock in the morning, in the hope of obtaining work as a kitchen porter. He did everything for Gran, cooking, cleaning and of course looking after his precious daughter as Gran never bonded with her baby.

Around 1937, my grandparents bought a large house; they must have inherited some money, probably from Angelo's parents. By 1939 Martha was married [at least we achieved one 'honest' women in the family!] and I was born – the third generation of only daughters. My grandparents lived on the ground floor of their newly acquired house and my mother, father and I lived on the first floor. My father left to fight in North Africa, while Angelo was interned on the Isle of Man. My Gran wasn't standing for this; she set off for the Ministry of War in London, to demand her Angelo's return. Although the officials were very kind, for once, Gran did not get her own way and it was not until Italy joined the allies, two and a half years later, that Angelo was allowed to return home.

Mollie and her daughter had always been at loggerheads but, to a background of air raids, they did become a little closer. When the siren warned of an air raid, Gran would always tidy up before leaving for the shelter, often arriving at the shelter just as the 'all clear' siren was sounding!

I adored my grandparents but, on reflection, Gran was rather eccentric and certainly very different to the grandmothers of my friends. She would do gardening at night by the full moon, just to avoid the neighbours and she loved to tuck herself behind the shed, to sun bathe in the nude. She taught me how to make dandelion and nettle soup, and the names of the wild flowers that grew in the hedgerows and she took me into the country, to look for rosehips, chestnuts, mushrooms and blackberries. However, there was a downside to Gran's interest in nature. When the tradesmen and their horses passed the house, I was summonsed to go with a bucket to collect what they had left behind, for Gran's roses! How I hated that job, made worse by the teasing from other children.

Gran always spoke 'her mind'. One day we were standing in a queue at the butcher's stall, in the open air market, clutching our ration books. Gran noticed the butcher looking under the counter, then bringing out a large handful of sausages, which he added to a woman's meagre ration of meat. In a loud voice, Gran said, "We all know what she has done to get something extra". I wondered for many years what Gran had meant. The meat from the butcher was wrapped in newspaper – no health and safety in 1944.

Nobody dared to go against my Gran. One day my mother had cut us all a piece of cake and when I returned from the toilet, I discovered Gran had eaten my slice of cake. Mother just glared at me and I knew nothing must be said. Gran had many sayings and one was," If time is limited, keep five things clean in your house – beds, dustbin, oven, larder and the toilet" but it was Granddad who was directed to do these chores, never Gran.

Gran had a wonderful singing voice and if I hear the song 'My Bella Margarita', I can still see her sitting at the piano playing and singing so beautifully, with Angelo gazing at her with tears in his eyes. Although a rather unconventional beginning to their relationship, they did love one another. Mollie lived for seventeen years after Angelo died and she never came to terms to being without him.

My grandfather was a wonderful man and his influence has stayed with me throughout my life; I love Italian food, a staple part of my diet long before it became popular in England, and he taught me to paint and draw, which has been a life long hobby. He was such a kind man. When I was in trouble, and sent to bed early without my tea, Granddad would sneak up to my room with big slices of bread and marmalade. He would also find old scooters and bikes on bomb sites and mend them for the children down the street.

In the same way as her mother could not connect with her, I have no recollection of my mother ever cuddling me. In turn, despite having very good relationships with my own children, I was never demonstrative towards them; cuddling them just did not come naturally. Conversely, cuddling my six grandchildren seems entirely normal – although the boys squirm away at times! To me, this illustrates the importance of relationships in the early years.

My grand-parents have had more of an impact on my family than I care to think about. I sometimes look at my ten children and grandchildren and find myself wondering what would have become of us all, if it hadn't been for a very feisty Dancing Queen and an Italian man, with a strong sense of family.

Author

Posts
Viewing 1 post (of 1 total)
You must be logged in to reply to this topic.