This topic contains 0 replies, has 1 voice, and was last updated by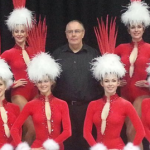 Bernard Tiller 6 years, 3 months ago.
Viewing 1 post (of 1 total)
Author

Posts

March 11, 2015 at 6:03 pm

#447

Bernard Tiller

Moderator

My Aunt Iris (Iris Rowland) was a dancer at the London Palladium around 1920.

Auntie Marjorie (Marjorie Rowland) went to The Tiller School when she was fifteen and she told me that Mr Tiller trained her together, I imagine, with his wife. She had danced at the Folies Bergère and had recounted to me how the French girls, who did the nude work at the Folies, would spit at the English girls as they came off stage as the English girls were paid more. Marjorie joined the Tillers in 1924 and was one of the dancers that met the artist Walter Sickert (who did several paintings of them). She described him and a "small shabby man who looked like a pervert!" Marjorie had the amazing ability to walk from one end of the stage to the other, doing the splits!

Later, at the outbreak of the war in September 1939 the Polytechnic in Kilburn that I attended was evacuated and my Auntie Lillian (with whom I was living) didn't allow me to go. I was quite happy about the decision.

Aunt Marjorie was bathing one day and I was sitting talking to her as I was at a loose end. She was telling me that she was going to Liverpool for the Christmas season with the Tiller troupe and she was the Captain. I said "pity I don't dance as I could come with you" (my mother was in a hospital at the time). Marjorie said "what a good idea!" So she took me to the Tiller Schools in Cambridge Circus (after she had spent four weeks putting me through my paces). Miss Doris, who was running the school at the time, together with another Tiller Girl called Babs Aitken, auditioned me and I was employed for the Christmas season with Marjorie but I had to say I was Marjorie's younger sister; I was fifteen years old. Marjorie taught me all the routines we danced so that when I got to the theatre I could hold me own with the other dancers.

There were 16 Tillers and 16 Danetrees and 16 juvenile dancers. The pantomime was "Goody Two Shoes." I loved every minute of it. The theatre was opposite Liverpool Market. We had two weeks rehearsal in The Tiller Schools and, I think, a similar amount in Liverpool. We had excellent digs. When we got home about 11 pm the fire was built up and a nice meal before we went to bed.

My aunt acquired tickets for the pantomime for our landlady and I remember one night in the middle of our dancing she went into the aisle waving to us so we could see her!! She cooked a fantastic Christmas dinner and Auntie Lillian had sent up a Christmas pudding and cake.

As a Tiller Girl I was taught how to make makeup and still have the grease paint!

As far as I know, Iris, Marjorie and I were the only dancers in the family. However, I do recall a conversation between my two aunts in which they were discussing who could kick higher. One of them said that their mother (my grandmother) Nellie Gibbs, could kick higher still. This has got our family wondering. Was she a Tiller as well? If so, her career would have started in the 1890s, at the very dawn of The Tiller Girls!

Nell Wiggins

(known in the Tillers as Nellie Rowland)

Nellie's contract from 1939

Author

Posts
Viewing 1 post (of 1 total)
You must be logged in to reply to this topic.