This topic contains 0 replies, has 1 voice, and was last updated by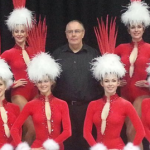 Bernard Tiller 6 years, 3 months ago.
Viewing 1 post (of 1 total)
Author

Posts

March 11, 2015 at 5:47 pm

#433

Bernard Tiller

Moderator

Dear all, sadly I have to inform you of the passing of Gwen Tremayne Betts, Gwen was probably the oldest surviving Tiller Girl.
Gwen passed away on Saturday 15th September aged 103 years. She died peacefully at Portcullis House, Somerset where she had lived for some time. Gwen was the daughter of silent film director Alexander Butler, was born in 1909 in Twickenham and took to the stage when she was just ten years old.
Her first stage appearance was as Pease Blossom in A Midsummer Night's Dream and until quite recently was still very sprightly and living in Langport. She first danced professionally in 1919 and Gwen kept a diary of every show she appeared in until she married in 1936.
Gwen grew up with her cousin Les Tremayne, who later emigrated with his family to the USA where he became a Hollywood actor and starred in the 1953 film adaptation of H G Wells War Of The Worlds.
As well as a brilliant dancer, Gwen was a very accomplished artist and recorded in drawings nearly all the costumes she wore during her career. She would paint pictures of her stunning stage costumes, which in her later years she made into outfits for dolls. These pictures give a great insight into the intricate designs from this time. It is also very interesting to see how her drawings grew over the years from being very simple line drawings to some very intricate works of art.
Gwen told me she was very proud to have been a Tiller Girl. I once showed her a video of The Rockettes Christmas Show, she told me with a big smile that she used to do the same routines with the Tiller Girls, 'But we did it better".
Our sympathies go out to her son Mick and the rest of Gwen's family at this time.

Gwen's very first drawing from A Midsummer Nights Dream at the Old Vic 1919

A photo of the actual costume

Babes In The Wood Pavilion Theatre Glasgow.

Fairy Doll costume from 1921 Review Rolling Stones.

A drawing from 1930

The Musical play "The Five O'Clock Girl" was a successful Broadway play starring Mary Eaton and Oscar Shaw. Marion Davies' Cosmopolitan Productions bought the rights for the play and filmed it as a feature talkie. This stage show toured the UK from July 1930 to December 1930.

Gwen as Cinderella, Blackpool December 1930

Jack and the Beanstalk, the Opera House Belfast Christmas 1931 / 1932

Wonders Revue. Costumes

Wonders was a lavish Revue from 1925 by Albert de Courville & J Alexandre Music by Chappell.

Wonders Olympia Shoreditch flyer

The show toured the UK from January 19th to May the 18th 1925 appearing at 18 theatre venues. Albert de Courville went on to be a very well known film director. The cast also listed a Leslie Crowther in the cast, this is the father of the very well know presenter by the same name who appeared with the Black and White Minstrels and The Tiller Girls in the 1950's and presented the children's program Crackerjack in the 1960's.

Wonders Company Pendulum

Wonders Flower Costumes

Orchid

Sweet Pea

Rose

Chrysanthemum

Author

Posts
Viewing 1 post (of 1 total)
You must be logged in to reply to this topic.