This topic contains 0 replies, has 1 voice, and was last updated by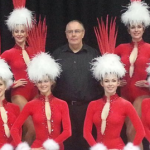 Bernard Tiller 6 years, 3 months ago.
Viewing 1 post (of 1 total)
Author

Posts

March 11, 2015 at 6:06 pm

#449

Bernard Tiller

Moderator

Olive would have been approximately 17 years old when this was taken early in 1923

She would probably have been training with The Tiller School from 12 or 14 years of age I think with the London School as her and her sister are listed as from St Margarets on Thames, Twickenham. The girls from this time worked incredibly hard, most from working class families from Manchester and a few from the new London Tiller School.

Olive being a very attractive and talented dancer was picked by John Tiller to dance in one of his best troupes. She danced with her younger sister Winnie Hollinghead for her first years with The Tiller Girls. Winnie had followed her sister into The Tiller Girls and first went to the USA with her in 1926 aged 18.

This is some of Olive's story as sent to her sister Winnie in the UK over the years.

By 1924 Olive was dancing in Lollipop on Broadway in one of the very best Tiller Troupes. She was one of only two dancers from London the other being the 18 year old Constance Aldis. All the other girls were from the North of England, mainly the Blackpool area.

By 1925 Olive is back in the UK her and the other girls are dancing a summer season at the Winter Gardens, Blackpool then later in the year in Bristol.

After the summer shows, December 1925 sees the girls in a Christmas show, with The Tiller Girls in Glasgow for the new year.

December 7th 1926 Olive sailed aboard the Cunard liner Berengaria back to the USA to dance in the show Yours Truly, first in Chicago, then the show moved on to Broadway to be one of three shows on at that time featuring The Tiller Girls.

Girls in the show below

Head Girl Irene (Rene) Todd, Marjorie Griffiths, Louisa Gillette, Cora Neary, Isabella (Bella) Pilling, Francis Lunn, Olive Hollingshead, Winnie Hollingshead, Amilia (Millie) Cox, Edna McCullum, Renee Roberts, Sadie Hudson, Constance (Connie) Clements, Marie Webster, Edie Bennett, Alice Pittman, Jane miller, Edith Bennett, Winifred Adams.

Alice Pittman (left) and Sadie Hudson (right) Alice went on to appear in films and settled in the USA

On Broadway with the show Yours Truly
•Yours Truly Olive Hollingshead & Winnie Hollingshead Jan 25, 1927 – May 14, 1927 then return to the UK for a very short break.
July 30th 1927 the troupe set sail on the Scythia from Liverpool to New York•.

August 4th 1927 on the Scythia

December 1927 Olive is back in New York in the show Yours Truly

This time Olive did not return to England with the other girls she stayed in New York to appear on Broadway in the Shubert Show 1928.

The other girls in the troupe returned to the UK including Winnie.

Many of the other girls returned to America in August 1928 to appear in other shows but as far as I am aware Winnie did not return to the USA to dance.

Olive was next in another Broadway show, A Night in Venice Original Musical
•Female Performer
•Olive Hollingshead
•Dates of Performer: May 21, 1929 – Oct 19, 1929
By this time Mary Read who ran the New York Tiller School of Dance had signed a contract with a film studio in Hollywood many of the girls went on to dance in a number of large productions.

Olive moved to California in 1929 to dance in films.

Palmy Days (1931)

Next Olive is in Hollywood in her first film an Eddie Cantor film. Dance routines are choreographed by the legendary Busby Berkeley.

In 1933 Olive was cast in Roman Scandals,


This Eddie Cantor film is full of the Busby Berkeley signatures dance numbers and was the last film he directed for Samuel Goldwyn. His talents were put to good use in a variety of numbers. For one slave market sequence, Busby persuaded a number of dancers to appear in the nude; they consented, only if the set was closed, and they had long blonde wigs covering them in strategic places; even so, the girls look practically naked, one of Busby's specialities. He auditioned hundreds of girls for this film only using his best dancers. One of these was Lucille Ball, whom Samuel Goldwyn didn't like, but Busby cast her anyway. Many people forget that Ms. Ball was a dancer!

Olive then married Alfred Langridge and had a son Robert. I believe she worked as a nurse during the war and appeared in amateur productions over the years. I have photos of her in 1952 leading a hectic social life.

Olive in 1952 I think living in California.

I would love to be in contact with her family, should anyone who knows them read this please ask them to contact me.

Author

Posts
Viewing 1 post (of 1 total)
You must be logged in to reply to this topic.